Joey Jordison
Talk

0
193pages on
this wiki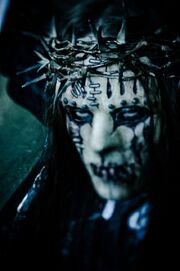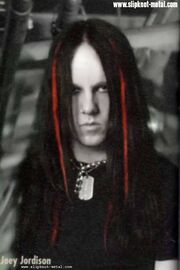 Nathan Jonas Jordison, born on April 26, 1975 in Des Moines, Iowa. More commonly known as Joey Jordison, is an American drummer and guitarist. He is best known for his role as the drummer for Nu Metal band Slipknot during the 1990s and 2000s, as well as substituting for drummer John Dolyman of System Of A Down during a concert, October 31st, 2001 as well as filling in for Metallica's drummer Lars Ulrich in 2004's Download Festival. Joey also went on tour in with Korn in 2007 before they started recording the new album and when Corey and Jim were in Stone Sour and Slipknot was on hiatus. He is also well known as the guitarist for Murderdolls, a glam metal/horror punk band which he founded in the 2000s, that is currently on hiatus.
He can play Drums, Guitars, Bass and can do vocals.
History
What exact event has spurred Joey onto his love for metal? Joey started his passion in 1982 at the age of six, having seen a news report stating that a metal star had bitten the head off of a bat the night before. "I immediately thought that Ozzy ruled". Soon after he bought the "Blizzard Of Oz" album the Sickness had started, "It hasn't left me to this day, it was meant to be. It was almost like Ozzy bit the head off a bat to pass the torch way early on, to another sick band"
Joey's first drum kit
He got this in 5th grade, having previously played guitar in some old primary school bands. The drum set came to him as a suprise gift from his parents; they had asked him to go into the basement in search of "Elton John" Tape, to Joey's astonishment within the basement he found a fully set up drum kit.
While in high school, Jordison attended a jazz school and hung out with cousing Steve Allan White. This helped profoundly to improve his drumming ability, witch has since made him become the top rated drummer by music media across the world.
Jordison had worked at a gas station in Waukee, Iowa and played in various extreme metal bands from around the Des Moines area, including Modifious and Anal Blast. Slipknot released an demo in 1996 named Mate.Feed.Kill.Repeat. Only 1000 copies were ever made and sold worldwide. It wasen't until their first album that they began to garner signifigant attention, charting at a respectable #51 on the billboard chart. Jordison, along with his band, played in several Ozzfest Tours, headlining the tour in 2001. An second album called "Iowa" was released in 2001 this saw Jordison's band reaching super-stardom, the album debuted in at #3 in the US Billboard charts and #1 in both the United Kingdom and Canada's national charts. After touring relentlessly, Slipknot went on hiatus. During this time Jordison remixed the "Fight Song" for Marilyn Manson and was also featured in Manson's "Tainted Love" video. In 2002, Jordison, with Wednesday 13 and Tripp Eisen, Formed what would become his second most popular band, Murderdolls.
Roadrunner United
Recently, Jordison played a big part in the 25-year anniversary of Roadrunner Records, The record label which both of his bands - Slipknot and Murderdolls - are signed onto, Jordison was one of the four "Team Captains" for the project. His role involved organizing a "Core Band" if other musicians, past and present. on RoadRunner label. and choosing vocalists to sing on his songs. Jordison produced, wrote, and played drums on the songs Annihilation By The Hands Of God , Tired 'N Lonely (also played bass guitar ), No Way Out (also played bass guitar), Constitution Down and Enemy Of The State . It is said that in the first meeting about which musicians on the Roadrunner label to approach for this project, Jordison's was the first name to come up. On the DVD for The All-Star Sessions, Jordison can be seen working on the tracks at a studio in Des Moines, Iowa, and is not wearing his famed Slipknot kabuki mask.
Masks
There is meaning behind each Slipknot members' mask. They are a reflection of their personalities or a past personal experience. Jordison's Japanese Noh mask reflects a personal experience; when he was younger his mother wore the mask when she came home from Halloween drunk. He was terrified of the emotionless stare of the mask. In the early days of Mate Feed Kill Repeat (album) he wore one plain white. For the Self-Titled album Slipknot, he decorated it with a few stripes and dots of paint. In Iowa he painted it with fake blood all over his mask, and for Vol. 3 he did a variation of designs on it, more notable with claw slashes. He also quotes: "The design enables it to feel however you want it to feel; scary, evil or perverted. All those things held in one mask". His new mask showed at the Fuse Fangoria Award show is gray with black markings. Joey wears an expressionless Japanese ""kabuki" mask that is now marked up with black + red paint for a darker look. He got the idea when one night (Halloween, mid 80s) his mum was waiting up for him and we he came home trashed , hiding behind the door was his mum in a robe with this Kabuki mask on, he says it scared the fuck out of him. MEANING: "It's open ended and it's got so many different meanings that you can't just pin point, stereotype or pigeon hole. It could be love, beauty, hate, disgust - it's all that stuff in one!"
Facts
He says he's 5'4 but in actual fact he is 5'3.
He is an UNBELIEVABLE drummer and he can also play guitar and bass.
He's talkative, diminutive, and just really down to Earth.
He's the shortest one of the lot and is also one of the original members of Slipknot.
Before joining he was part of the band Anal Blast.
Joey created the now commonly used term of maggot and apparently he also has an obsession with Fiona Apple.
Joey has written many songs, one of them being Scissors which appeared on the self-titled album, which was consequently mixed by him as well.
Joey attained the nickname "Superball" after one show that Slipknot played crap in, so he got mad and started "bouncing around the room"
Joey worked at a record store called "Music Land" and a gas station called "Sinclair's". He worked at the garage four nights a week for 10 hours after being tempted by a friend, to get a job there.
Although receiving poor grades in school, due to a devotion to music, he eventually graduated with honors.
Joey lives with his mother.
While recording the drums for Iowa, Joey's hands were cut open from drumming so hard while trying to find the right sound for the album. 
During the recording of the Iowa song, People=Shit,he had reportedly broke his drum sticks at least five times in the process of the songs recording.
Little People?
Joey likes to wear a black hood that says "Little People Kill People". The tribal "S" that has originated as their logo was originally drawn by Joey, it was later used as a tattoo for Anders and then got promoted to a Slipknot emblem. Joey also drew the main Slipknot logo, and the large "K" and "T" may come from the fact that at that time he was a huge KoRn fan. Joey is also really into a lot of Death Metal bands and was a huge fan of "Kiss" seeing them as larger than life super heroes, the other band he loved was "Black Sabbath". Joey used to cut the arms and legs off of his coveralls, making it a tad easier to beat on things.
Quotes
Quote - "Ross (Robinson) is insane! Once, when we were recording here, he threw a potted plant at me. It exploded on the wall over my head and the dirt went in my mouth. It was awesome."
Hobbies
"It is pretty much covered by music 24/7. Aside from that, maybe video games, sleeping and sex. "
Buy Mask
Gallery