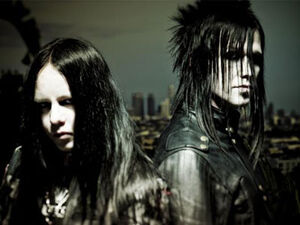 Murderdolls is an American horror punk supergroup, founded during 2002 in Hollywood, California. The band line-up consists of core members Wednesday 13 and Joey Jordison. Former members include Ben Graves, Acey Slade, Eric Griffin & Tripp Eisen.
To date the band has released Eighteen albums, the first in the form of Beyond the Valley of the Murderdolls which was released in 2002. The band had limited initial success in the United States, though their album and singles charted well in the United Kingdom and around the same time they picked up a strong following in Japan. Their second album, Women and Children Last, was released August 31, 2010. &nbsp
Ad blocker interference detected!
Wikia is a free-to-use site that makes money from advertising. We have a modified experience for viewers using ad blockers

Wikia is not accessible if you've made further modifications. Remove the custom ad blocker rule(s) and the page will load as expected.