The Slipknot Wiki is a unofficial fansite dedicated to the band Slipknot.
The site is hosted by Wikia.com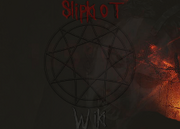 The Slipknot Wiki was started November 12, 2007. History on the wiki is foggy as it is unknown currently who originally started the wiki. The wiki was edited a few times and abandoned. On Febuary 10, 2010, THE GMoD adopted the wiki and seriously improved on the state of the wiki. Just a day later, Febuary 11, 2010 the wiki was hit with massive vandalism. Due to this vandalism the wiki was put on lockdown on Febuary 12, 2010. All pages where locked and fixed. The wiki was heavily worked on and was re-opened to Registered Users on March 22, 2010. It soon dawned on me (THE GMoD) that I could not do this on my own, So on April 26, 2010 "Jay666" waspromoted to admin, soon followed by "DavidGlyn" or just "Dave" on May 1st, 2010, Who have both had there adminship revoked due to a long period of inactivity.
Sub-sites
Edit
The Slipknot Wiki currently has 2 sub-sites:
Slipknot Answers opened April 8th 2010
Slipknot Wiki Forums Still under development. Hosted on ZetaBoards
When the wiki was first opened in 2007 is used the standard Wikia.com theme. After adoption by THE GMoD it used the pre-set "Gamer" theme, though this was short lived as on March 12, 2010 the wiki had its first custom theme. It combined Black and Blue colours acompanied by red text. This theme was later dropped for a new theme on March 22, 2010 witch combined a smoke grey background within the text boxed with a Dark Orange border and white text with a Slipknot themed background image from OpiumOfThePeople.net. The logo was later changed to match the theme. On 13/10/2010 The Slipknot Wiki was, to much upset, forced to switch to Wikia's new "Oasis" Theme. This new theme for the wiki has a grey style, With most things being... grey. This is two things, a Paul tribute and a dark grey sad style to reflect the sad change to the new "Oasis".
Ad blocker interference detected!
Wikia is a free-to-use site that makes money from advertising. We have a modified experience for viewers using ad blockers

Wikia is not accessible if you've made further modifications. Remove the custom ad blocker rule(s) and the page will load as expected.